With the prosperity of the world commodity economy, people's shopping environment and shopping methods have undergone tremendous changes. The large-scale integrated supermarkets and self-selected shopping malls have largely replaced the traditional small and medium-sized retail stores. If you are often shopping in a large supermarket, you must have the experience that before you go shopping in the supermarket, you first need to list the target products you want to purchase, and then search for them one by one in the supermarket and select them on the shelves. After selecting it, place it in the small cart provided by the supermarket. When the goods to be purchased are fully selected, they will be lining up at the payment desk. This process will take some time. If frozen foods such as ice cream and ice cream are included in the items you purchase, these frozen and easily melted foods may begin to melt during this time. The journey from supermarket to home takes a while, and the ice cream that has begun to melt may melt into a liquid when it arrives, which is embarrassing.
With the accelerating pace of modern life, consumers' shopping time is relatively concentrated. One-time purchase of consumer goods for one week is extremely common. The time required for each purchase is relatively long, and the melting of frozen foods in the shopping chain is indeed a problem.
Recently, Sainsbury's Supermarket Co., London, England, and DS Smith Packaging of England have jointly developed, developed and launched an innovative portable heat-insulating and refrigerated corrugated paper packaging container specifically designed for the storage of frozen foods in large supermarkets and large-scale supermarkets. use. The container is used for packaging low-temperature frozen foods such as ice cream, ice cream, etc. Under normal temperature conditions, the ambient temperature in the container can maintain a sufficiently low temperature for a period of time, so as to ensure that the frozen food packaged is not paid before being paid in the supermarket or returned home. Melting provides great convenience for consumers. In addition, this thermal insulation and refrigerating packaging container can be hung on the outer edge of the supermarket shopping trolley. It does not occupy space in the vehicle, which indicates the ingenious design.
The purpose of this innovative portable heat-insulated refrigerated packaging container is to increase the brand effect of the product. Second, it is convenient for consumers to provide a good low-temperature refrigeration for the purchased frozen food during the time of purchase in the supermarket and on the way home. Packaging environment. David Ted Woods, technical director of DS Smith Packaging, said that the most difficult aspect of designing this portable insulated heat-insulated refrigerated packaging is that, on the one hand, we must fully consider the functional requirements of consumers and consider packaging. The cost is minimized and the best cryogenic maintenance is guaranteed. In the process of designing this package, the technicians and designers of DS Smith Packaging Company integrated these three prerequisites into each design link. After many modifications and trials, they were finally developed. This is convenient, economical and practical. It is also a modern packaging with thermal insulation effect.
Sainsbury's Supermarkets Co., Ltd. of London, England, quickly promoted this thermal insulation paper packaging to the UK-wide frozen food packaging market and achieved great success. As this new type of paper insulation package is in line with the new concept of a new modern retail packaging, complying with the new consumer demand for frozen food should be equipped with new requirements for thermal insulation and refrigerated packaging, and well received by British consumers.
David Ted Woods, technical director of DS Smith Packaging, said that with successful thermal insulation design, he also needs to extensively solicit the opinions of users and design and finish the printing of beautiful surface trademarks, designs, and texts. In addition to that, a safe, convenient, and reasonable form factor has to be designed, and how it can be easily and firmly suspended on the outer edge of the supermarket shopping trolley.
Another problem that needs to be solved is how to strengthen the handle of this packaging container. For this reason, the designer of DS Smith Packaging Company carefully designed and tested the carton folding and the way of glue connection, and finally successfully designed the handle with double strengthening effect, which is fully qualified for the weight of refrigerated food contained in the packaging container. Ensure sufficient pull strength.
This thermal insulation container design must consider the various dimensions of the comprehensive consideration, first of all design it as a flat container shape, and to match the size of the front end of the supermarket shopping cart for the consumer to provide, but also can be convenient , fast and stable suspension; secondly, its content size should match the small package size of frozen foods.
In addition, Sains-bury's Supermarkets Co., Ltd. has fully considered environmental protection requirements in designing and selecting materials, and 100% pure pulp boards are used. When the containers are used and discarded, they can be recycled without causing environmental damage. Any pollution. In addition, at the retailer's request, this thermal insulation refrigerated packaging container is designed to have reusable functions and can be reused many times to save retail packaging costs.
This thermal insulation refrigerated packaging container discards any plastic insulation material and is completely folded with a single piece of super heavy-duty, moisture-resistant B-type corrugated cardboard. This super heavy-duty, moisture-resistant B-type corrugated cardboard is manufactured from white kraft paper and has a very high coefficient of thermal insulation. The outer surface is printed with water-based inks. The bottom of the container is equipped with shockproof facilities and is glued and sealed. The top of the container adopts a bellows-type self-locking seal, and the entire container has good airtightness.
This innovative paper thermal insulation refrigerated packaging container can be folded and stored for reuse. The original design was reusable 5 times. After actual use, it was determined by DS Smith Packaging Corporation that its actual reusability has been extended to 10 times.

Reprinted from: China Packaging News

Please kindly offer detail description and requirements of product,like:

picture of case, size , quantity ,material ,color, logo imprint, and so on.
We offer picture and details of goods after production finished, and your QC inspection welcome!



Specification of Earphone Storage Case


| | |
| --- | --- |
| Product Name: | EVA Headphone / Earphone Case |
| Model Number: | ZC2018 |
| Material: | Molded EVA foam interior, canvas outside |
| Color: | black, red, brown, accept customized |
| Size: | customized size is acceptable |
| MOQ: | 1000pcs |
| Logo Print: | Embossed logo, Debossed logo, Silkscreen logo... as required. |
| Usage: | Headphone / Earphone Packing |
| Customized: | ODM&OEM is accepted |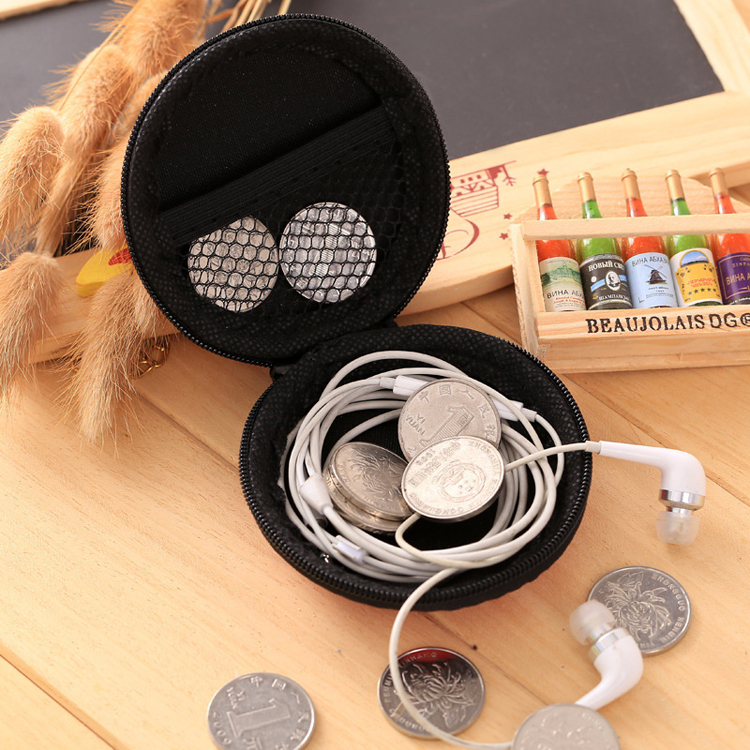 Earphone Storage Case
Earphone Storage Case,EVA Zipper Case,EVA Earphone Storage Case,Earphone Zipper Case
Ji An Chi Cai Gift and Packaging Product Co., Ltd. , http://www.chicaieva.com